Why should you hire a paddle board in Brighton?
The sea off Brighton is a beautiful place to be on a sunny day.
But getting out on the water can be tricky. If you don't have your own paddle board, you can find yourself stuck with the crowds on Brighton beach, looking longingly out at the water.
But there's no need to miss out – you can arrange paddle board hire in Brighton from £15/hr! Use the booking form to see if there's availability across a number of paddle board hire providers or just pick one from the the list below.
Below is a list of the top paddle board hire spots in Brighton.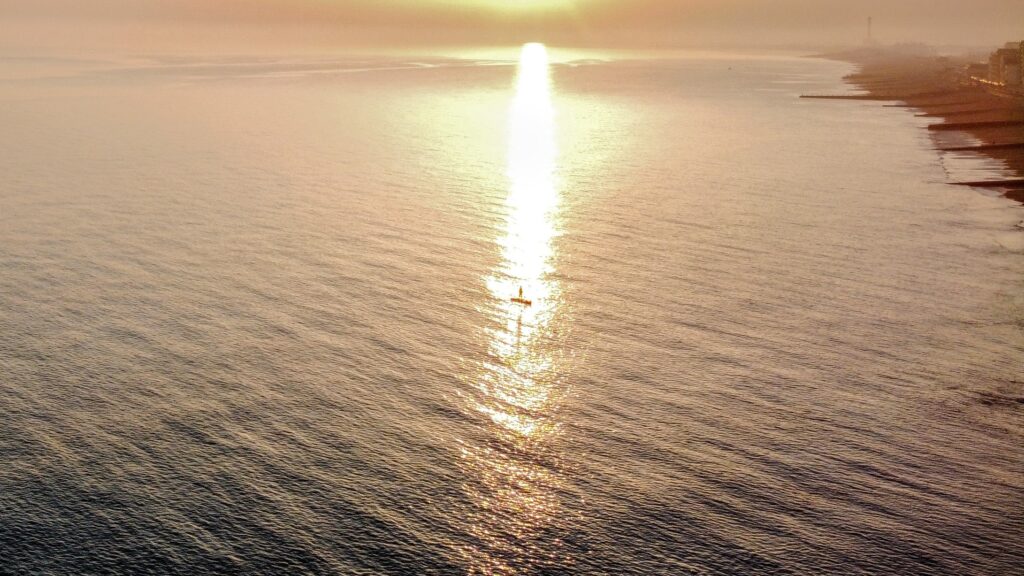 Quick Quote / Check Availability
( Quotes from up to 3 local paddleboard hire locations )
Top spots for paddle board hire in Brighton
Brighton Watersports – Brighton water sports is in the heart of the action, just a short walk down from Brighton station they have wetsuits, paddle boards and buoyancy equipment. One of the oldest hire establishments in the area the team will look after you well and you're also right in the heart of the action so you can do the West Pier to Palace Pier loops one of the best routes in Brighton! If it's windy then Brighton Watersports is not the best place to hire from as the sea will be tricky / dangerous to paddle on.
Paddle Routes From Brighton Watersports:
You're right in the heart of the the action with Brighton Water Sports, so you can head out to left towards Palace Pier check out the throngs of people on the beach out side Tempest.

Post Paddle Drinks:
Thanks to the Sea Lanes collaboration with Bison Beer you can drop your paddle gear off, get changed and grab a pint from the Beach Bar that runs next to the main Sea Lanes centre, soak up some rays and enjoy those post paddle vibes

Cost: £15/hr
Address: 185 Kings Road Arches Brighton Seafront BN1 1NB
---
Hove Lagoon – Located to the west of Brighton & towards the edge of Hove, the lagoon offers lessons, hire and more. It's a good place to start as the calm lagoon and waist deep water allow for an easy intro into the sport, but once you're up on the board make sure you get out onto the ocean, a small little lagoon doesn't really do paddle boarding justice! Be sure to check out lagoon fest a fun event run by Big Beach Cafe. Hove Lagoon also offer paddle boarding lessons.

Post Paddle Drinks:
Head to Big Beach Cafe for a sun downer and make your way into Brighton.

Cost: £20/hour
Address: Madeira Drive
---
The Harbour Club, Shoreham – Whilst a little further out of Brighton, Shoreham is a great place to hire a paddleboard especially if Brighton is a bit breezy ( as it often is! ). If you're looking for hire Brighton Kitesurf & SUP Academy can rent them.
Paddle Routes From The Harbour Club:
Well you've got the whole of the Adur! You could hire a board and paddle all the way up to the Kings Head in Upper Beeding ( just make sure you're reaching the Kings Head around high tide so you're going up with the current both ways ).
Post Paddle Drinks: If you're feeling adventurous you can stop for mid paddle drinks at The Bridge ( steps to the pub garden can be found at the back ) or if you would rather wait until you're off the water The Harbour Club is open til 11pm most days.

Cost: £15/hour
Address: Beach Green, 141 – 145 Brighton Rd, Lancing BN15 8RA
---
Paddle board hire questions:
How long should I hire a paddle board for?
Most people find that 1-2 hours of paddle board hire in one go is enough, however you may want to go out a couple of times during the day in which case hiring a board for the day might be the way to go. It's amazing how the seascape in Brighton can change during the day so if you've got the board for the day then you won't miss out on one of the amazing West Pier sunsets!
Should I get paddle board lessons before hiring a board?
Yes if you've never been out on a paddleboard before it's probably best to get a lesson first. There are lots of great places to get paddleboarding lessons in Brighton. Once you've had a lesson you'll understand more about how the sea works and feel more confident with getting up on the board.
Do I need to wear a wetsuit?
It depends on the time of year. Most of the year it's probably best to where a wetsuit and buoyancy aid. Depending on where you book your paddle board hire in Brighton you may get a wetsuit included.
Last Updated on 26th April 2023 by Brighton Paddler