Where to go for paddleboard lessons in Brighton?
You're planning a trip to Brighton soon and you're keen to try out paddleboarding. The good news is there are dozens of local companies offering stand up paddle board lessons in Brighton. However, you won't want to waste your time and money on a bad experience. Here's our guide for choosing the best company for paddle board lessons in Brighton.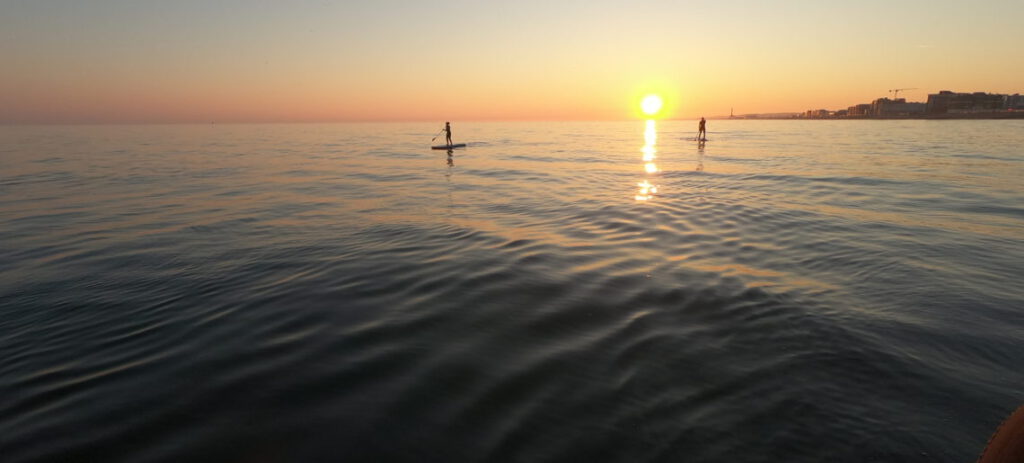 Quick Quote / Check Availability
( Quotes from up to 3 local paddleboard Schools )
Paddleboard schools in Brighton
Whether you're a beginner paddleboarding looking for your first paddleboarding lesson or an improver looking to work on your race technique these schools can help.
Brighton Watersports
Located in the heart of Brighton, this location offers stunning sea views of Brighton's landmarks. It's a very popular spot during the summer season, with BSUPA qualified instructors available to guide you through your water sports experience. Prices start at just £45 per person.
SUP & SOUL
Lake paddling is available for small groups with flexible locations across Sussex. ASI qualified instructors offer sessions starting at just £25 per person. Whether you are a beginner or experienced paddler, we have something for everyone to enjoy.
FLOW + PADDLE
Offers a range of services that are great for small groups or individual tuition. They have certified instructors who are qualified through BSUPA, and they also offer river coaching for those who are interested. Prices start at £45 per person.
---
Hove Lagoon
The instructors at Hove Lagoon are all BSUPA qualified, meaning you'll be in good hands as you learn the ropes. Plus, the waist deep water makes it easier for beginners to stay upright and build their confidence. The Hove location is also convenient, with plenty of parking nearby, prices start at just £55 per person.
BKSA
A river paddling experience is the perfect way to escape the bustle of Brighton. It's just a short drive or train ride away, and offers an opportunity to connect with nature & relax on the water. BKSA's qualified BSUPA instructors will lead you on a guided tour, ensuring a safe and enjoyable experience. Prices start at just £25 per person.
Private lessons:
For private lessons feel free to contact me on Instagram ( @brighton_paddler ) to see if I have any availability.
Why take paddle board lessons in Brighton?
It may not be the first thing that springs to mind when you think of a sport, but stand-up paddleboarding is a great way to stay fit and healthy. The benefits of paddleboarding are many, and it's one of the best sports for keeping in shape. But before you head out onto the water alone, it's important to know what you're doing.
Here are some reasons why I recommend taking paddle board lessons in Brighton before hitting the water:
It's safer
Whether you're new to paddleboarding or have years of experience, accidents can happen at any time. Taking a lesson ensures that you know how to stay safe on the water. You'll learn about the right gear for different weather conditions, how to read the water, and what to do if you fall in.
You'll pick up better technique
Paddleboarding is easy – it's just like walking on water! However, there's a huge difference between paddling around slowly and actually going somewhere fast. If you want to get anywhere in less than an hour, it pays to learn what you're doing from an expert.
You'll get fit faster
Paddleboarding is great for getting into shape – but only if you do it properly. If you're using bad technique or have poor posture then you may actually end up with an injury. To avoid the risk of injury a paddle board lesson will help show you the proper technique.
See the sites from the water!
You can take paddle board lessons in a lot of places across the UK but Brighton has something special about it. On a busy summers day getting on the water and escaping the crowds is a great feeling, you'll also get a different perspective of Brighton's amazing city scape.
What about if I just want to hire paddle boards in Brighton
If you've already had lessons and feel confident enough to go out on the water yourself please take a look at out page covering where to hire paddle boards in Brighton.
What's the difference between BSUPA and ASI?
They are different instructor courses, you can find out more about BSUPA here or ASI here. Both offer good quality instructors, so if a school / instructor is accredited you know you're going to get a good lesson.
Is Brighton good for paddle boarding?
Yep, Brighton is an excellent spot to get into paddleboarding, the only downside is the wind. If it's wind and onshore it's going to make it really tricky to get out and I wouldn't recommend going out as a beginner in onshore conditions and you need to be really cautious in offshore winds if you're new to the sport as you might get blown out to sea. If you're not sure the best thing is to start with a paddleboarding lesson and then look to hire once you've mastered the basics.
Is paddleboarding harder than kayaking?
To be honest it probably is, you have to master getting up on the board and getting your paddle in the water, where as with Kayaking you can pick up the basics pretty quickly. The plus point to paddleboarding is that you're much higher up so you can see what's around or beneath you, which is great on a clear calm day off West Pier.
Can you paddle board at Brighton Marina?
I wouldn't recommend paddling the Marina due to how much harbour traffic there is. You're better of putting your board in either side of the harbour at Black Rock or to the East of the harbour towards Rottingdean, you can find some paddleboard routes around Brighton here.
Last Updated on 27th April 2023 by Brighton Paddler