Inflatable paddleboards are a fantastic invention, a real game-changer that has opened up the sport of SUP boarding to a lot more people. Inflatable boards are lighter and easier to carry than hardboards. They're easier to store and transport while also being more robust and less easily damaged. And they cost less too! They're an awesome piece of equipment. But there is one downside – the need to pump them up whenever you want to paddle.
Pumping up your inflatable board can be a time-consuming and energy-draining process. And it puts some people off SUP boarding altogether. This is why getting a good paddleboard pump is essential. You want to make inflating your board as simple and painless as possible so you can get out on the water feeling relaxed and ready to paddle.
So, we've put together a list of the best paddleboard pumps in the UK to help you find one that works for you. Whether you like to go old school with a manual pump or if you fancy trying an electric one, we've got all the best options for you here.
Table of Contents
Top 5 Electric Paddleboard Pumps
We love electric pumps and would always choose one over a manual if given the option. They do all the hard work for you, inflating your board rapidly to the desired pressure, leaving you with nothing to do but relax before your paddle. So here are our picks for the best electric paddleboard pumps you can buy in the UK. 
1. OutdoorMaster Shark II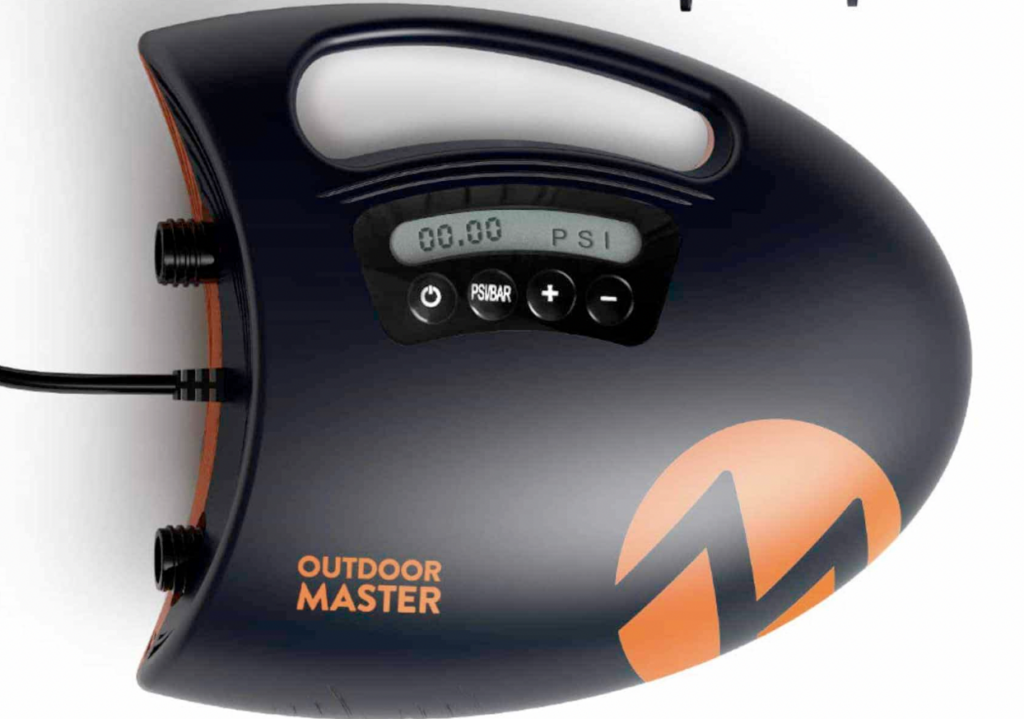 The OutdoorMaster Shark II is our top choice for an electric paddleboard pump. It's easy to use, speedy and runs off the 12 v power in your car. You can pre-set your desired pressure up to 20 PSI, then walk away and let the pump do its job. The auto-stop system cuts the pump off when it reaches the required pressure, so there are no concerns about overinflating and damaging your board. Its built-in cooling system allows it to inflate up to three boards one after the other without needing to stop to cool down. And it's got a deflate setting which sucks the air out of your board, making packing up a breeze.
2. iRocker 12 v Electric Pump
The iRocker is another excellent choice. This compact, lightweight electric pump comes with a handy carry handle, fits easily into a paddleboard bag, and runs off 12 v car power. The iRocker rapidly inflates one board in 12 minutes and can fill two boards consecutively without needing to cool down. It has a display screen to preset your pressure requirements and an auto stop to cut the pump once the desired PSI has been met. It also has a deflate setting for super quick pack-ups.
3. Vogvigo Rechargeable Electric Air Pump,
If you don't always paddle with a vehicle or power source nearby, you need the Vogvigo Rechargeable Pump. This pump has a rechargeable battery, so you can take it out into the wilderness and pump up your board when you get there. Then, when you return, recharge it from the 12 v socket of a car or the AC power in your home.
The LCD screen tracks battery life, allows you to input the desired pressure up to 16 PSI, and will auto-stop when the pressure is reached. The pump takes about 12 minutes to fill one board and can do three or four on one battery charge.
Full of great features, this pump also has built-in LED lights perfect for early morning and after-dark paddlers who need to see what they're doing.
4. Tuomico Max Electric Air Pump
The Tuomico Max Electric Air Pump is an excellent pump on a mid-range budget. It runs off your vehicle's 12 v power source and can inflate a board to a maximum PSI of 20 in approximately 10 minutes. It has a digital display for setting and tracking the pressure, an auto stop to prevent overinflating, and a deflate port for speedy pack-up. It's a lightweight, portable pump and comes with a range of nozzles to fit all boards, kayaks or inflatable devices.
5. ITIWIT electric SUP pump
The ITIWIT electric SUP pump sold by Decathlon is a great low-cost pump for anyone on a budget. It's lightweight, easy to transport and simple to use. Connect the nozzle to your board, plug it into your car's 12 v outlet, preset the PSI using the digital display, and start the pump. The auto stop will cut out when the pump reaches the desired pressure. This pump will inflate a 300 L board to 15 PSI in around 12 minutes.
Top 5 Paddleboard Hand Pumps
If you'd rather pump your board the old-fashioned way – by hand, there are still some ways to make your life easier. These are our top 5 hand pumps for SUP boards. They're all designed to maximise the efficiency of every pump, reducing the physical effort and time required to inflate your board.
1. Fanatic Triple Action Pump.
The Fanatic triple action pump is one of the fastest hand pumps on the market. Its innovative triple-action design will have your board inflated up to 20 PSI in 20% less time and with 20-30% fewer pumps than it would take you with a double-action pump.
It's a bigger and bulkier piece of kit than the other options on our list, but it's also the most efficient and the only one with that triple-action method.
2. Red Titan II SUP Pump.
The twin-chamber Titan II pump has double rather than triple-action but is still a rapid and effective pump. Start by using both chambers for fast inflation. As the pressure in your board rises and it becomes harder to continue pumping, flip the lever over. This allows you to top up the pressure using a single chamber to 20 PSI. As you pump, a built-in pressure gauge lets you keep track of your board's PSI.
This is another large and bulky pump, but unlike the Fanatic, its handle and feet fold away for easier storage and portability.
3. Fanatic Double Action SUP Pump
The second Fanatic pump on our list, the Fanatic Double Action doesn't have quite the speed of the Triple Action pump, but it's still efficient. And it's sleeker, more portable and half the price of the Triple Action model.
This pump can inflate to 27 PSI which is impressive although unnecessary for SUP boards. So keep an eye on the pressure gauge to know when to stop.
4. ITIWIT Stand Up Paddle and Kyack Pump
The ITIWIT SUP and Kyack Pump is another dual action pump which works in two stages first to inflate your board rapidly, then to top up the pressure up to 20 PSI. A built-in pressure gauge keeps track of the PSI as you pump. Once you've finished paddling, switch the pump to deflate mode to flatten your board for easy transport and storage.
5. ITIWIT Stand Up Paddle Double Action Pump.
The cheapest pump on our list, the ITIWIT Double Action Pump, is a great budget choice that's smaller and lighter than the other pumps on our list. Another dual action pump, this cheerful orange number rapidly inflates boards by adding 3.6 L of air on every up-down pump before you switch to single action and add pressure with 1.8 L per pump.
Paddleboard Pump FAQs
Should I use a hand pump or an electric pump to inflate my SUP board?
The choice between an electric or manual paddleboard pump depends on personal preference. If you can't physically pump up a board, hate doing it, or have a whole family of boards for inflating, then an electric pump can make your life much easier. But if you don't mind pumping by hand, if you enjoy the workout, don't want to mess around with electrics, or don't usually pump near a power source, a manual pump might be better for you.
How long does it take to inflate a paddleboard with an electric pump?
It takes around 10 minutes to inflate a paddleboard with an electric pump, but the exact time depends on the pump. If you're pumping multiple boards, you might have to wait between boards for your pump to cool down, so remember that will add on time.
How long does it take to inflate a paddleboard with a manual pump?
There's no easy answer to that question because it depends on how fast you work and how efficient your pump is. But we'd say roughly 15 – 20 minutes for beginners.
What is PSI?
PSI – or Pounds per Square Inch – is a measurement of air pressure. The more air in your paddleboard, the higher the PSI and the more rigid the board will feel beneath your feet. Your board's manufacturer's guide will tell you what PSI to inflate to – generally between 15-18 PSI – and it's important not to overinflate your board as that can damage it.
Can I use an air mattress pump to inflate a paddleboard?
Yes, you can use an air mattress pump to inflate a paddleboard so long as the nozzle on the hose fits snuggly into the port on your board. However, if the pump doesn't have a pressure gauge or auto-stop function, you'll need to monitor the inflation and take care not to overinflate your board.
How do you use an electric pump paddleboard?
Electric paddleboard pumps are pretty simple to use and generally come with comprehensive instructions. However, if you're unsure, you can find some great instructional articles and helpful videos online.
Last Updated on 31st May 2023 by Brighton Paddler